A Typical Day At Valor Fitness
Who We Are
Valor Athletics Inc. – the official name of the company – was founded by Jim & Julie Vanderbleek in 2006 when Jim made a life changing career move, putting family first after 25 years in the sporting goods industry. Out of a desire to have his 3 children spend as much time as they could with his aging parents in St. Petersburg, FL, Jim resigned from his SVP position at Sports Authority in Denver, CO, packed up his family, and took a leap of faith to come back to Florida with no promise of a job or financial security.

Jim and Julie required much personal bravery to make such a grand life decision in the face of uncertainty. When looking for a company name to start a new career, Julie thought of the word "valor", which seemed appropriate based on the circumstances. Valor, meaning to exhibit heroic courage in the face of adversity, is synonymous to those that have had to overcome great obstacles, served our country bravely, or even athletes pushing themselves past their limits.

With athletics being a lifelong passion of Jim's, the pair found the second half of the name for their new company and Valor Athletics – later to become Valor Fitness – was born from the home office in 2006.

The years from 2006 to 2011 had its growing pains as well as personal hurdles. The original business plan was to be a wholesaler to the traditional retail locations throughout the country. In 2007, the first product line consisted of 7 SKUs, the economy was not well, and traditional retailers were closing their doors to new vendors. Sales were non-existent and debt was accumulating, while banks were closing Valor's accounts and lowering credit lines.

The decision was made in 2008 to abandon the traditional wholesaler/retailer relationship and focus on web sales, allowing Valor to have direct access to the customer and not having to rely on traditional retailers for sales.
During this transition, both of Jim's parents passed away within a 3-month span, the few employees the company had were all terminated, the corporate office was moved back to the house and sales were hard to come by. To add insult to injury, Jim was involved in a serious wave runner accident that left him in the hospital for a week and then rehab over the next 6 months. Valor found itself in a deep hole, only to later find out the hole would get much deeper as bankruptcy was being discussed. Quitting, however, was not an option. Jim and Julie had to lean on the definition of Valor – they had to dig deep and find their personal bravery to continue.

To keep the business afloat, Julie worked 3 jobs and convinced Jim to cash in the family's 401K retirement plan. A lifetime of savings meant for relaxation and retirement now became a lifeline of survival. A lifetime of savings being cashed out with no guarantee things would be better. A lifetime of savings no longer being saved for their children's education. Julie had faith in Jim, faith in Valor Fitness, and most importantly faith in God. Faith that God would provide knowing they lived by the golden rule: Honor your father and mother. In essence, Jim and Julie were ALL IN!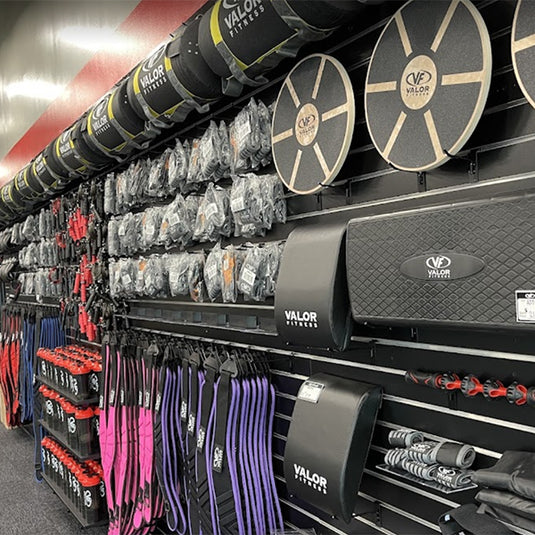 By January 2012, everything turned around and Valor again moved the corporate office out of the house and into a 2,700 sq ft office/warehouse. The banks saw the personal financial commitment from the Vanderbleek's and raised the credit line. In 2014, as sales continued to increase, the banks raised the lines of credit once again and another move was on the horizon. That same year, Valor moved to a 15,000 sqft complex and secured 3rd party warehouse locations in other parts of the country for additional storage space and sales distribution
In 2015, the hole opened again. Valor's family had to rely on their faith and personal bravery during the sudden and tragic death of Julie – one of the founding owners of Valor Fitness. Easily a recipe for quitting, Jim recalls telling himself, "I did not come this far just to come this far – finish the race that you started in 2006." In 2017, God provided Valor the means to purchase a 40,000 sqft office facility and now employs over 25 people and has a separate retail location in Pinellas Park, FL for walk-in customers. As rich as this sounds, Valor's management team clearly understands this could all end tomorrow.
Not to be content with Valor's past accomplishments, Jim understood there is more to do with regards to supporting the fitness community. In 2021, Valor Fitness purchased a 44,000 sq ft facility located in one of the busiest interstates in Florida. Known as the I-4 Corridor, this location sits between Orlando and Tampa just outside Lakeland, FL. This location will not only support Valor's second retail store, but it also serves as a strategically placed location for Fitness Events.

The company has learned to lean on its own name for guidance as well as never forgetting the company is just a vehicle allowing each employees vocation to be a means to support their avocation. Sales here provide the financial means for greater avenues in life.
Valor Fitness has proudly supported our community in the form of event sponsorships, free equipment rentals, volunteering our time, and donating to local charities.
When gyms closed their doors during the COVID-19 pandemic, Valor loaned out over 16,000 lb of equipment; all that was required was a promise to return the equipment when the gyms reopened. Valor is proud to say that 100% of the equipment was returned by our thankful community.

So, what's in a name? For the owner of Valor Fitness, it's personal: his life is in the name and his DNA in the company.

Why the in-depth "about us" story? To show our customers that behind what could be viewed as a façade of product photos, pretty models, and paragraphs of rich web content are people just like you working hard every day to be the best they can be.

Valor Fitness' short lived history is no different than your own life story. We all have hurdles to overcome and valleys to climb from.

Finding one's personal bravery happens every day – define your Valor.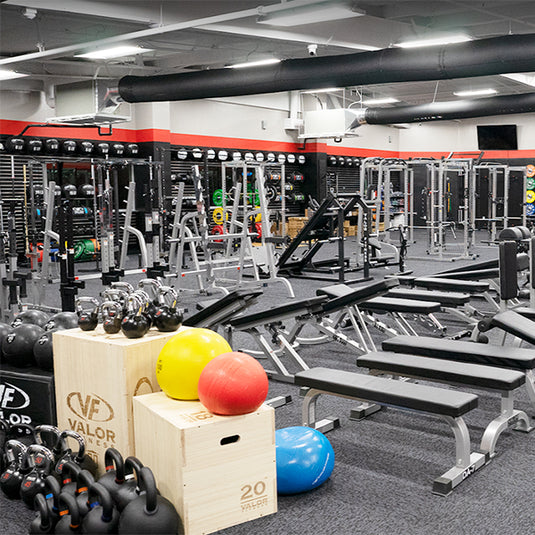 SHARE YOUR PERSONAL BRAVERY
Would you like to share your own story of Personal Bravery with Jim? Feel free to call or e-mail him, he would love to hear from you,

Jim Vanderbleek | 727-895-9525 | Jim@valorfitness.com

Thank you for your time and no matter where you shop for your fitness needs, you are always welcome at Valor Fitness.